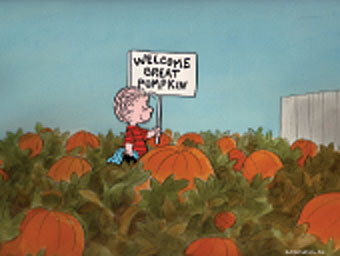 Last night I got to watch Charlie Brown with Hayden for the first time, and it was oh so sweet. This is the first year that she has watched TV, so it was just awesome for me to share one of my favorite traditions with her!
I think Jim appreciated it too, because it was the first year I didn't care if he watched it with me or not :)
This is definitely one of the greatest parts of being a mommy! I love passing on the traditions and favorite parts of my own childhood onto my own children.
The kids and Jim have been sick the last 4 days so we haven't been able to carve pumpkins. And since the kids are still sick, there will be no harvest parties, or trick-or-treating for us this year! Instead, we are making fun pumpkin cookies (I found WHOLE-WHEAT pastry flour!!) Carving our pumpkins and watching a halloween movie!
Hayden is so into dressing up right now, that everyday is a day for a costume! This morning she woke up and put on a fairy costume without even realizing that this was the day for dressing up! I think I will put elliott's pumpkin costume on him anyway, and take some pics of the kids.
It is so amazing to be able to make everyday, ESPECIALLY holidays super special for the kids!! I LOVE IT.